Framingham, MA is one of the largest towns in the United States and is located in Middlesex County. This is the ideal town for raising a family as it offers a superb school system, shopping districts and is only a half hour train ride into Boston. Ranked #36 on the Best Places to Live in the US by CNN Money magazine, Framingham is truly a hidden gem. The New England Wild Flower Society Garden attracts hundreds of visitors each year, offering over 45 acres of native New England plants. Some other attractions in Framingham include Trombetta's Farm and Impact Metrowest.
North East Synthetic Turf offers installations of indoor putting greens, waterless grass and athletic turf to the Framingham area. Our fast and professional services have customers returning to us for further enhancements on their turf. It is our attention to detail and quick response time that helped us build a solid reputation in the town of Framingham. Our blend of multi-fiber synthetic materials provides the illusion of real grass, offering both comfort and economic advantages. This waterless grass is used time and time again on our custom backyard putting greens. The durability and strength of the turf creates the perfect golf experience that you can have in your home or business. When you are seeking top-tier services for your athletic turf or backyard putting green, contact the pros at North East Synthetic Turf.
Backyard Putting Green Installation in Framingham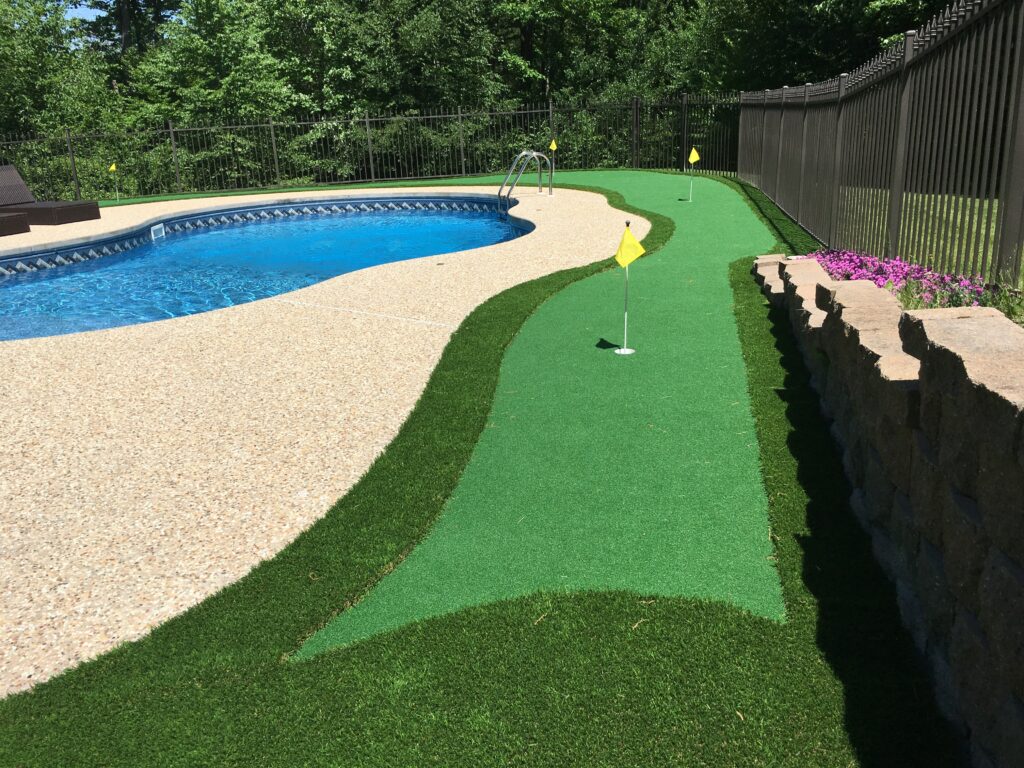 Here at Northeast Synthetic we are known for our amazing at home putting green designs and installations in Framingham and the surrounding areas. Whether you are pro-golfer looking to practice your swing or a beginner looking to have some backyard fun, there is nothing like working on your put put game from the comfort of your own home. Installing a putting green is a perfect way to unwind after a busy work day or a fun game you can start with family and friends at a BBQ. If you are interested in having your own putting green, we would love to hear from you. Big or small our team designs custom putting greens for spaces of all sizes. For more information on how you can have a putting green in your very own backyard, give us a call today!
Waterless Grass & Synthetic Turf Installation in Framingham
We are proud to install and custom design beautiful turf yards for residences and businesses throughout the Greater Boston and Framingham, MA areas. here at Northeast Synthetic Turf we can bend our turf around your home's features to accent gardens, pools, and landscaping features. This allows us to offer installation services that can work with your existing landscaping features including walkways, patios, decks, and pools. If you are interested in installing turf for your home in Framingham, please feel free to contact us today so we can discuss design, installation, and materials.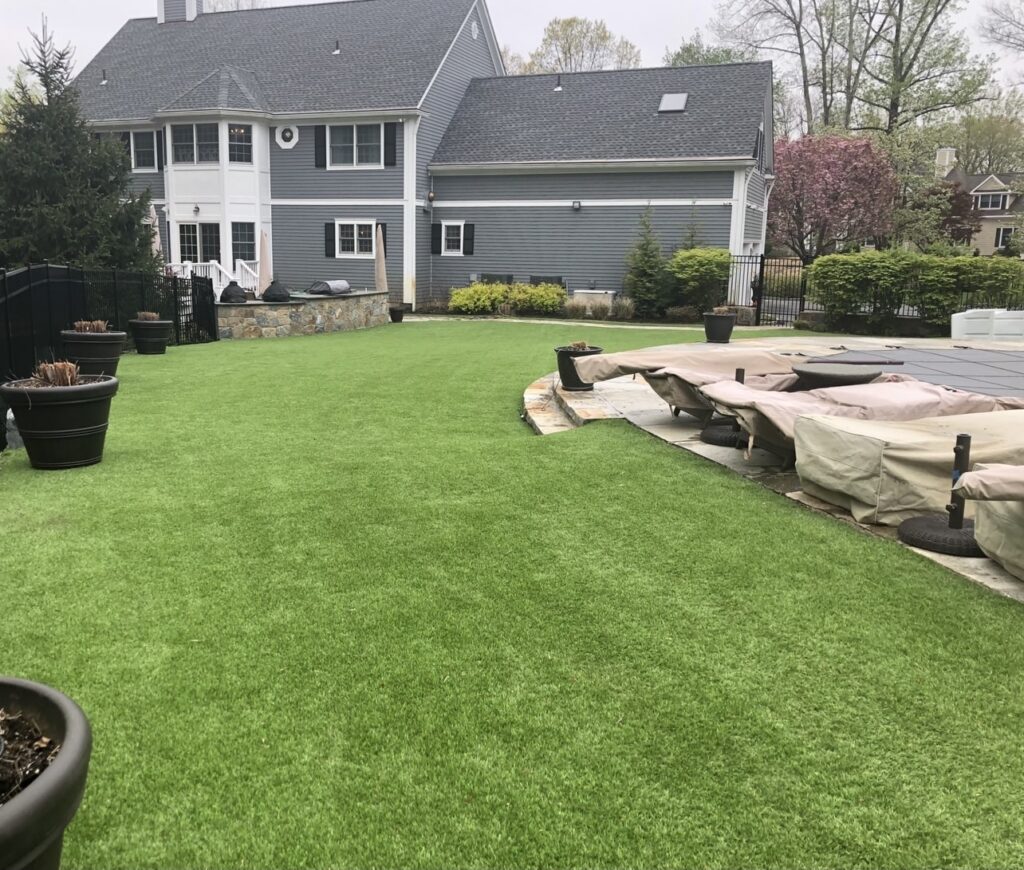 Athletic Turf Installation For Gyms & Sports Stadiums in Framingham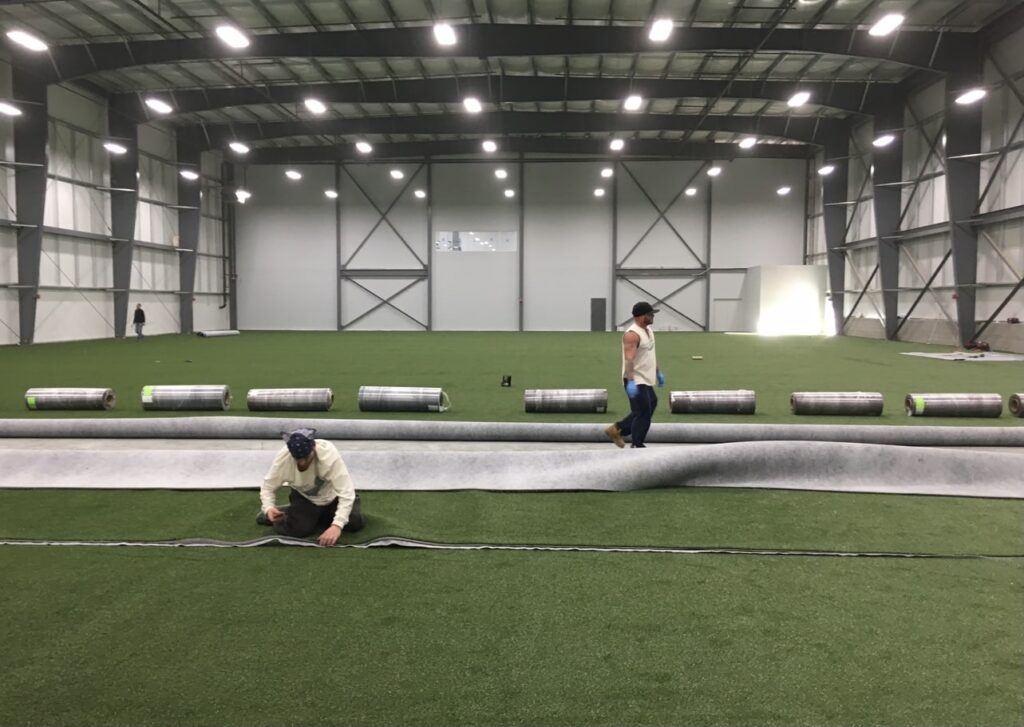 With turf becoming a more and more common choice for athletic applications, we have worked with numerous gyms, colleges and high schools to install high quality turf. Turf has several advantages compared to a traditional grass lawn, as a regular grass soccer field can get rained out and muddy, a turf soccer field will not get muddy or overfilled with water. Also, when turf is installed it is installed on a flat surface, removing any bumps or holes that have the potential to cause athlete injury. Additionally, turf can be installed indoors making it perfect for indoor sports and activities. If you own a property in Framingham that is interested in turf installation, please give us a call today!
Contact Us Today For A Free Quote on Turf Installation!
If you are in the Framingham, MA or surrounding areas and are interested in turf installation, contact us today by calling us directly as 978-360-1828. We will be thrilled to give you a free quote on our turf installation. Whether you are looking for an addition to a simple small yard or are looking for a complex installation, we would be happy to discuss materials, pricing, design features and more. We look forward to hearing from you soon!