For more than 25 years, our team of professional turf installers has been designing, installing, and repairing turf fields and yards throughout Massachusetts. Our work often brings us down to the Cape. Initially, we started as a
custom putting green installation
company, but over the years we have expanded to a few other turf installation services, including both indoor and outdoor turf fields. We offer
free no-obligation quotes
, so if you want to know how much a turf putting green or waterless yard would cost for you, please give us a call.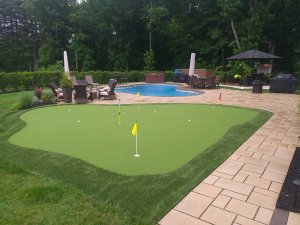 Backyard Turf Installation
Athletic Turf Installation in Barnstable
Professional sports leagues have been shifting to turf over the years. Turf is a great material for a variety of sports and is low maintenance. That is why we help install turf for homeowners, businesses, and public areas. So whether you are looking for a soccer pitch at a recreational facility, your own athletic area at your home, or indoor turf for your gym, we can help. We use the same brands and materials as the professional athletic leagues do, so you know you are getting good quality when you work with us. Learn more about 
athletic turf and request a quote here
.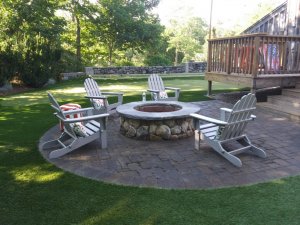 Turf Installation
Turf Yards For Pets In Barnstable
Many pet owners love our turf installation. It has many benefits for both you and your dog. Not only do you not have to worry about cutting the grass, weeding your yard, and handling dry brown spots of grass, but your yard is now not going to be home to ticks and fleas, and other pests. Additionally, cleaning turf is very easy compared to a normal yard, and no dirt means no muddy paws. Plus, turf yards are actually better for the environment in many cases because they decrease the pollution caused by maintaining a good-looking yard. Get a quote today by 
clicking here
.
Custom Backyard Putting Greens in Barnstable
Since our founding over 25 years ago we have always been interested in helping golfers of all skill types get their very own putting green. There are a lot of great golf courses throughout the state, but we really believe that nothing beats having your own place to practice and enjoy a nice summer day. We design beautiful golf putting greens that integrate with your other landscaping elements including pools, stonework areas, etc. Learn more by 
clicking here
.
Get A Free Quote on Artificial Turf
If you are interested in knowing more about your very own putting green or other turf instaltion, please fill out our 
contact form
 for more information and a free quote on your turf.