Northeast Synthetic Turf provides turf installation services throughout Westchester County. As a company, we began with installing personal
putting greens
for our clients throughout the northeast. And although there are some great places to go golfing in the Somers area, why not enjoy working on your short game at your convenience with your very own putting green. With over 25 years of work and experience, our team is sure you will love your putting green or other turf installation.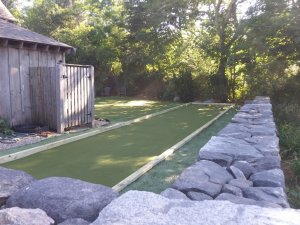 Backyard Turf Installation
Gym Turf Installation
Over the years we have expanded our services to include all types of turf installation. Whether it is an outdoor recreation field, an indoor gym, or a personal patch of athletic turf, we are always excited to get started on a new
athletic turf project
. We install baseball fields, soccer pitches, as well as simple turf that can be used in a gym setting. We use the exact same materials that are used by professional leagues for turf fields. Turf fields provide the benefit of low maintenance as well as decreasing the risk of a rained out game due to mud. Best of all turf fields are level and even from end to end, so there are no unfair advantages, hills, or bumps, that could negatively impact your game.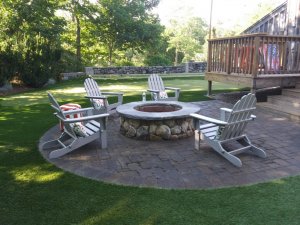 Turf Installation
Turf Yards For Pets In Somers
Pet owners and kennels often work with Northeast Synthetic Turf to install synthetic turf for their outdoor spaces. Dogs love our turf installations and pet owners do too. Our
turf is pet friendly
, non-toxic, and provides many benefits for dogs and dog lovers alike. No puddling means no mud, and synthetic turf means no fear of fleas or ticks hiding in the grass. Additionally, dogs love our turf because of how it looks and feels like a real backyard and maintains its bounce year-round.
Custom Backyard Putting Greens in Somers, NY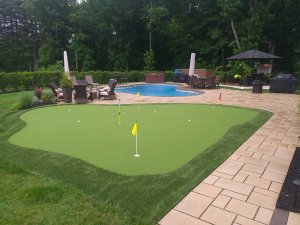 As said above, we made our name in custom putting greens. In fact, our original name was New England Custom Putting Greens before we expanded to New York and expanded our inventory. Whether you are a pro golfer or a novice, you can enjoy having your own
putting green
with help from our team of expert turf installers. Plus your friends and family can enjoy a few swings when they come over for a summer BBQ.
Get A Free Quote on Artificial Turf
If you live in the Somers area or in Westchester County and want a free quote on a turf installation, we would be happy to get a quote for you. 
Contact us
 via our contact form or 
give us a call today
 for more information on your turf installation.