Just north of Worcester; Leominster is the second-most populated town in the county. With many homes, businesses, and residential buildings, the Northeast Synthetic Turf Company is often working in Leominster to install our beautiful turf installations. Whether it is a simple yard, athletic turf, or one of our classic putting greens, we are always happy to provide the very best in turf installation services.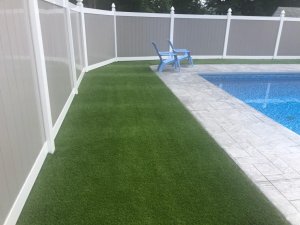 Artificial Turf Installation in Leominster
Waterless Grass Turf for Leominster
We have been installing turf for over 25 years in Massachusetts. Waterless grass is one of our most popular installations. It is low-maintenance, looks, and feels like real grass. And if you are a pet owner, we provide products that are designed for outdoor animals including our waterless grass for dogs. Turf looks great in your front yard, backyard, or outside the office. If you are interested in a completely free quote, send us a request.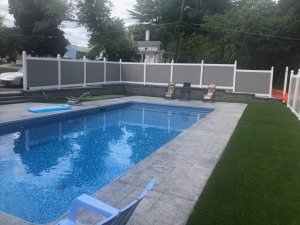 Pool Turf Installation in Leominster
Artificial Athletic Turf
We have installed a variety of turf projects for gyms, recreational fields, and private athletic facilities. Whether indoor or outdoor, we use the same athletic turf products used by professional sports teams throughout New England. The turf is designed to mimic the exact same conditions of an athletic field so it is perfect to train or play on. Athletic turf has also become much more common in gyms that are looking to add an area for classes, mobility training, and more intense workouts like sled pushes.
Custom Backyard Putting Greens in Leominster
Northeast Synthetic Turf made its name in installing beautiful custom putting greens. Perfect for golfers of all skill levels, our synthetic putting greens add value to any home. Whether you are looking to work on your short game and get a few strokes under par, or you are looking for a fun activity you can show off to guests and family when they come to your place, putting greens have been popular installations throughout Worcester county for years. And Northeast Synthetic Turf Company has been a leading provider in putting greens for over 25 years.
Get A Free Quote on Artificial Turf in Leominster
If you live or own property in the Leominster area or in Worcester county, we would be happy to provide you with a free turf quote for your location. Whether you are looking for a new putting green, athletic turf, or simple turf installation, our team of experts would be happy to talk design, answer questions, and provide quotes. Contact us or give us a call today.