There are a few great golf spots across the Cape. And if you are avid golfer or new to the sport, there is nothing more important than working on your short game. That is why so many homes throughout Cape Cod have installed their very own
custom putting greens
with Northeast Synthetic Turf. Our team installs all types of turf from athletic to just garden variety yards. Our turf requires little maintenance and looks good with any home or office. We are proud to provide our turf installations to homes and offices throughout the Plymouth area and the rest of Cape Cod.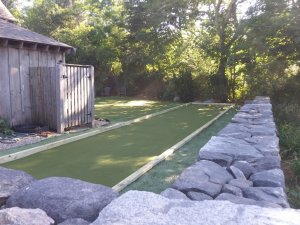 Athletic Turf Installation in Cape Cod
Athletic Turf Installation
We provide a variety of
athletic turf installations
throughout Cape Cod. Many gyms have started adding indoor turf for mobility training as well as sled workouts. Additionally, a lot of homeowners ask us about various turf projects to create different types of grass pitches like a bocce ball court or other lawn sports. We use the same type of turf that many professional athletic teams use to ensure that your turf is perfect for outdoor activity and mimics a real yard or field.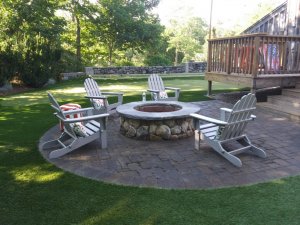 Turf Installation on Cape Cod
Waterless Grass For Pets On Cape Cod
If you aren't looking for athletic turf or a custom putting green, we can still help. We install beautiful custom-designed turf throughout Cape Cod. And if you have pets you should ask us about
pet-friendly turf installation
services. Our turf is perfect for Cape Cod homes because it is so low maintenance. If you have a beach house or second home on the Cape, you definitely want a yard that isn't going to get overgrown while you are gone. We would be happy to provide quotes on beautiful turf that looks lush year-round.
Custom Backyard Putting Greens in Plymouth
We made our name in installing beautiful putting greens in New England. In fact, our old name actually was New England Custom Putting Greens before we changed it to Northeast Synthetic Turf. We have been providing beautiful putting greens for over 25 years to homes throughout Massachusetts. If you are looking for a truly unique and beautiful addition to your home, we would love to give you a quote on a brand new
putting green
.
Get A Free Quote on Artificial Turf in Leominster
If you live or own property on Cape Cod or in Plymouth county, we would be happy to provide you with a free turf quote for your home or business. So whether you are interested in a putting green in your backyard, turf for your private gym, or just a nice turf yard for your summer home, our team of experts would be happy to talk design, answer questions, and provide quotes. 
Contact us
 or 
give us a call today
.