Just on the western edge of Middlesex County and formally a piece of Marlborough Massachusetts, Hudson MA was incorporated as a town in 1866. Known as a "shoe town" for the vast shoe factories of the area post-industrial revolution, many of the surrounding towns participated in this economic trend. Most of these shoe factories got their power from the Assabet River. Nowadays Hudson is home to many residents and business owners. Based in Clinton, Northeast Synthetic Turf spends a lot of the spring and summer completing turf installation jobs in the Hudson area.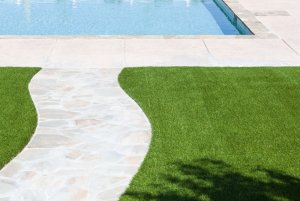 Athletic Turf Installation in Hudson Massachusetts
We offer both indoor and outdoor athletic turf. We work with many different clients to setup baseball fields, football fields, soccer pitches, and more. Many gyms get indoor turf installed so that members can push weighted sleds across the turf. So whether you are a gym, a school, a university, or a residential field, we can help you with an all-new synthetic field.
Residential Synthetic Turf Quotes for Hudson Massachusetts
Homeowners throughout Hudson get our waterless grass installed on their properties. With
waterless grass
, you can enjoy a front or back yard that is always green and never requires mowing, weeding, or other upkeep. With many different options, we are sure you will find turf you will love. We even offer
pet-friendly synthetic turf
so your outdoor animals are safe. Some turf brands are toxic, but we only use turf that is safe for pets.
Backyard Putting Greens
Do you play golf? Want to improve your short game. Take your golf game to the next level with your own
personal putting green
. A putting green is a perfect outdoor entertainment feature for any BBQ or party you host, best of all it requires almost no maintenance and is always ready to go. We install them throughout the Hudson area for homeowners interested in having their very own regulation turf in their own backyard. Send us a message to get a free quote.
Get A Free Quote By Contacting Us Online
North East Synthetic Turf is grounded in Clinton MA and serves Clinton, Massachusetts, and New England. We are a leading provider of synthetic turf, artificial lawn, waterless grass, athletic field turf, backyard putting greens, portable putting green, and fake grass in New England. The quality we provide cannot be beaten. For a free quote
contact us online
.