For more than 25 years, our business has been installing, repairing, and helping maintain turf installations in Massachusetts. When we were first founded we focused primarily on installing beautiful outdoor putting greens for homes throughout the state. As time passed we expanded our projects as well as where we work. Whether you are looking for a simple turf yard for your home or business, turf designed for dog parks, athletic turf for your gym, or a uniquely designed putting green for your home, we would be more than happy to set up a meeting with our team.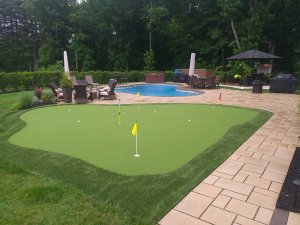 Backyard Turf Installation
Gym Turf Installation in Shrewsbury
Turf has become more and more popular for athletes. Whether it is professional atheltes or simply in gyms across America, there has been a steady increase of turf fields. At Northeast Synthetic Turf we use the same quality and brands of turf that are used by professional athletic leagues to ensure the best performance for sporting events. Additionally we install indoor turf fields for recreational facilites and gyms that are looking to add new areas for visitors to workout. Learn more about 
athletic turf and request a quote here
.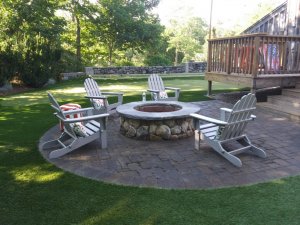 Turf Installation
Turf Yards For Pets In Shrewsbury
There is a lot to love with a synthetic yard especially if you have outdoor pets or manage a kennel. In fact, a lot of apartment buildings have used turf for their dog runs for more or less the same reasons. Dogs love turf because it feels just like grass. Dog owners love turf because there is a decreased risk of fleas or ticks or of your dog chewing on grass and getting sick. Plus, turf means fewer puddles and dirt so you don't have to worry about muddy paws in your home or apartment. Get a quote today by 
clicking here
.
Custom Backyard Putting Greens in Shrewsbury
All throughout Worchester county you are sure to find some amazing golf courses. But nothing beats the freedom of practicing your put from the comfort of your own home. That is why we install and maintain synthetic putting greens for homeowners throughout Shrewsbury and the surrounding towns. Whether you use your putting green to organize a competition at your next summer BBQ, or you use it to relax on the weekends, or you use it to practice before your next golf outing with your coworkers, however you use it, you will love it. Learn more by 
clicking here
.
Get A Free Quote on Artificial Turf
If you live in or around Yonkers or own property in the area and are interested in your very own putting green or turf installation for your home or business, we would love to provide you a quote. Simply fill out our 
contact form
 for more information and a free quote on your turf.