Looks and Feels Just Like the Real Thing.
Northeast Synthetic Turf's "Waterless Grass" looks and feels like the real thing. It is a patented blend of multi-fiber blend of synthetic materials designed to look like real grass.
Commonly referred to as fake lawn or artificial grass, you can imagine the economic advantages of installing an artificial lawn. Your Waterless Grass will begin paying for itself immediately!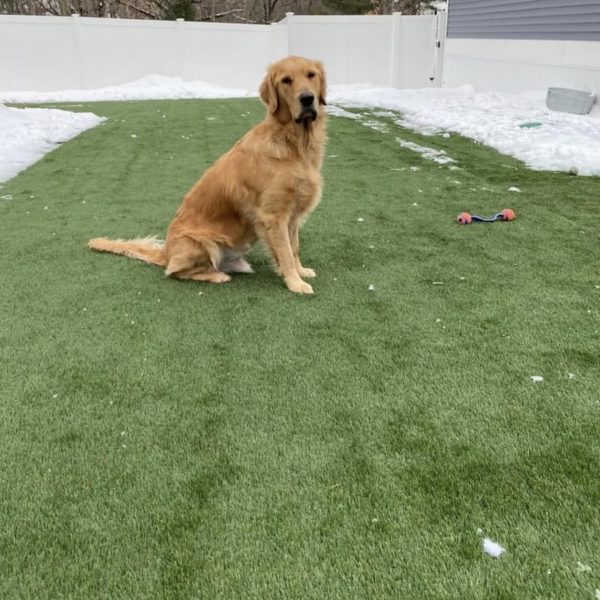 Here Are Just a Few of the Advantages of an Artificial Lawn/Waterless Grass:
No more mowing
No more brown spots
No more dead patches
No more weeds or weed-wacking
No more edging
No more crabgrass
No more fighting with shaded areas
No more costly landscaping bills
Completely Pet Friendly
The most common applications for a synthetic lawn are pool areas, around patios, side yards, small front yards and back yard play areas.
Perfect for Other Trouble Areas
It is so difficult to cut real grass in around decorative pavers and detailed hard-scapes, that most people avoid adding decor in their back yards and pool areas. Now you can have a long lasting and maintenance free way to beautify your yard.
As you can see, this customer was having a very hard time growing good grass in his pool area. They were fighting crabgrass, weeds and shade. Three of the biggest grass growing problems in Northeast states like New York, Connecticut, New Jersey and Pennsylvania.
Not only were we able to solve all of those problems but, we were able to bring in pavers and other detail landscaping work that would have otherwise been very expensive and hard to maintain.
We can transform your problem areas into beautiful looking grass that will last for years and make your neighbors green with envy!
Remember, don't just trust any synthetic grass. Mirage Waterless Grass is only available from a select group of highly trained installers, watch out for imitators!