For over the last 25 years, Northeast Synthetic Turf has designed, installed, and maintained turf installations throughout the state of Massachusetts. We began in the business of custom putting greens throughout Greater Boston, but have continued to add new projects, designs, and more under our belt. We frequently work in Worcester county including in Auburn to provide turf installation services for both homes and businesses in the area.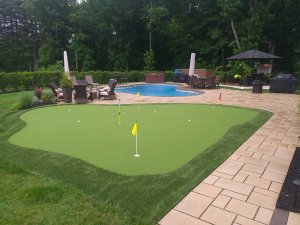 Backyard Turf Installation
Gym Turf Installation in Auburn
More and more gyms are installing athletic turf for their facilities. Turf areas in an indoor gym are perfect for strength and mobility training, whether you are pushing weighted sleds or practicing mobility drills. Our team installs professional turf for athletic facilities indoor and outdoor. Whether you are looking to add turf for your gym building or for a rec field, we can help. Learn more about 
athletic turf and request a quote here
.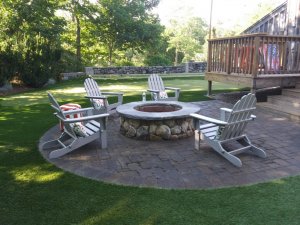 Turf Installation
Turf Yards For Pets In Auburn
Synthetic lawns are great for pet owners. Dogs love synthetic fields because there are no ticks or fleas hiding in the grass to bite at them. And pet owners love synthetic yards because there are no muddy puddles, no dirt, and they are easy to clean. Getting a synthetic yard as a pet owner is a win-win. We often install turf fields for both homeowners and for local kennels in Greater Boston and Worchester country. Get a quote today by 
clicking here
.
Custom Backyard Putting Greens in Auburn
Throughout Worchester county, there are many great golf courses and clubs to choose from. But that doesn't mean you always want to go to the driving range or the local country club. With Northeast Synthetic Turf you can have your very own professional putting green right in your backyard. Whether you just want a few stress-relieving shots after a workday, want to have some friendly competition at your next family BBQ, or want to improve your short game, you are sure to love your putting green. Learn more by 
clicking here
.
Get A Free Quote on Artificial Turf
If you live in or around Yonkers or own property in the area and are interested in your very own putting green or turf installation for your home or business, we would love to provide you a quote. Simply fill out our 
contact form
 for more information and a free quote on your turf.