Northeast Synthetic Turf works throughout New England to provide beautiful turf installations for families and businesses. Located in Massachusetts, we consistently find ourselves in Saugus installing beautiful
putting greens
, artificial lawns, and athletic turf. We provide free quotes on any and all turf installations and we would be happy to answer your questions about our products as well as give you recommendations on turf installation. We have been in the business of turf installation for over 25 years, and are always excited to start and finish another project here in our home state.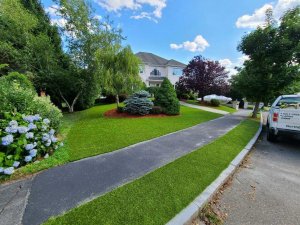 Artificial Turf Installation in Saugus
Waterless Grass Turf for Saugus Homes
Our turf is perfect for any home or office.
Waterless grass
is a maintenance-free alternative to a traditional lawn. Say goodbye to hours of weeding, seeding, and mowing. Our installations are designed to look beautiful and mimic a natural yard. And for pet owners, ask us about our
waterless grass for pets
. This special turf is safe for your outdoor pets while also being easy to clean when messes happen.
Artificial Athletic Turf
We have installed many different athletic fields utilizing turf. From baseball diamond outfields to bocci courts to soccer pitches, there are seemingly endless ways to use turf for sports and recreation. In fact, athletic turf is even popular for indoor activities. Many of our nation's top colleges have artificial turf in their gyms, and even NFL athletes train and practice on synthetic turf.
Athletic turf
is perfect for mobility training and gym workouts as well as being for recreational areas and homes.
Custom Backyard Putting Greens in Saugus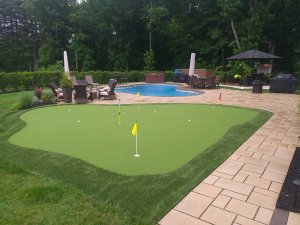 Northeast Synthetic Turf made its name in installing beautiful custom putting greens. Our putting greens are the perfect addition to any home whether you are a golfing pro or a novice. Any golfer knows that if you want to get better at staying under par you need to work on your short game. With a custom putting green from Northeast Synthetic Turf you can enjoy a beautiful putting green right outside your door that you can practice at any time. We work with your land to design intricate putting greens that compliment your yard, your garden, or your pool.
Get A Free Quote on Artificial Turf in Saugus
If you live in Saugus or own a business and are thinking about turf installation, give us a call or send us an inquiry using our contact form. We would be happy to provide you a completely free quote, answer your questions, and discuss your project with you in greater detail.