For decades now, our team has been installing and designing beautiful backyard putting greens throughout New England. In this article, we want to cover some of the great design ideas we have seen and implemented in our designs over the years.
Why Get A Backyard Putting Green
There are two reasons to get a backyard putting green made with synthetic turf. The obvious reason is it is a fun way to enjoy your yard, is great for guests and BBQs, and can actually help you improve your golf game. The second reason is that artificial turf requires much less maintenance than a traditional yard. Having your own backyard putting green means that not only do you now have a unique feature for your home, you also have less maintenance to handle on a yearly basis. Plus, turf can actually benefit the environment by decreasing pollution caused by yard maintenance.
Curved Design for Backyard Putting Green
One way you can trick your eye when looking at your backyard putting green is using curved geometry. Most golf courses are curved, and by replicating this you can make your small putting green appear like a larger golf course. Curves can also add challenge to certain putts.
Including a Bunker or Mini Bunker in Your Putting Green
One way to make your home putting green look even more like a traditional golf course is with a mini-bunker. Now you may be thinking that the goal of any golfer is to avoid the bunker, why would you want one installed? Honestly, a bunker is just for aesthetics but can also have some use. Bunkers can be a place to hold balls after you are done putting.
Incorporating Your View into Your Putting Green Design
If your home has a beautiful view and some extra space, we highly recommend considering how that view can interact with your putting green. The orientation of your putting green can be shifted to ensure you can enjoy the beautiful view beyond your property as you play. Additionally, if you don't have neighbors, you can also potentially practice driving assuming the ball won't land on anyone else's property.
Putting Greens That Compliment Your Pool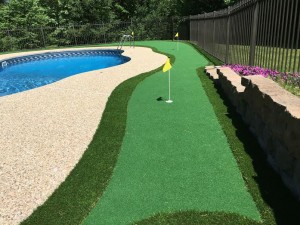 Much like bunkers you probably didn't think you were going to add a water hazard next to your putting green. but if you have an inground pool, placing your putting green next to the pool can create a beautiful design aesthetic. Mixing pools with putting greens can really highlight your landscaping.
Get a Quote On A Putting Green
The best way to design any putting green is to make it unique to your home. We would love to provide design help as well as putting green installation. Contact us today for a free quote.